C3 Solutions' President, Nicholas Couture, Named a 2019 Supply & Demand Pro to Know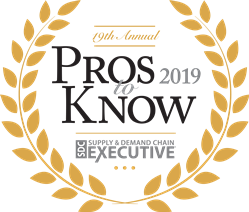 "Every year we receive more submissions from outstanding supply chain leaders. It's evidence of the growth in the supply chain profession as well as the importance of the profession within companies," says John Yuva, editor for Supply & Demand Chain Executive
MONTREAL (PRWEB) March 08, 2019
Supply & Demand Chain Executive, the executive's user manual for successful supply and demand chain transformation, is pleased to announce the 18th annual listing of the 2019 Pros to Know in the supply chain industry.
C3 Reservations, C3's Online Dock Scheduling System, streamlines the scheduling process by improving dock productivity, expanding visibility on scheduled appointments and measuring vendor compliance.
C3 Yard, C3's Web-based Yard Management Solution empowers yard managers by providing visibility on yard assets, optimizing the flow of trailers from gate to gate and automating yard driver task assignment.
The Pros to Know Awards recognize supply chain executives, and manufacturing and non-manufacturing enterprises, that are leading initiatives to help prepare their companies' supply chains for the significant challenges of today's business climate. This year's list includes more than 200 individuals from software firms and service providers, consultancies or academia, who helped their supply chain clients or the supply chain community at large prepare to meet these challenges—and more than 40 Practitioner Pros, who do the same within their own companies.
Supply & Demand Chain Executive received more than 500 entries for the 2019 Pros to Know Awards.
Check out Supply & Demand Chain Executive's website at http://www.sdcexec.com for the full list of all of the 2019 Pros to Know and Practitioner Pros winners.
About C3 Solutions
C3 Solutions is an information technology company specialized in yard management (YMS) and dock scheduling systems. Since its founding in 2000, C3 has gained the confidence of clients around the world and across many industries including retail, grocery, distribution, manufacturing and parcel post.
Headquartered in Montreal (QC), Canada and privately owned, C3 is dedicated to developing, implementing and supporting the most complete yard management and dock scheduling products on the market today. For more information on C3's products, schedule a free online demonstration. http://www.c3solutions.com
--