Acuity Joins Zebra Technologies' PartnerConnect Program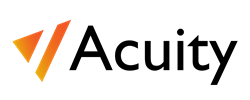 TAMPA, Fla. (PRWEB) March 06, 2019
Zebra Technologies Corporation, an innovator at the edge of the enterprise with solutions and partners that enable businesses to gain a performance edge, today announced the participation of Acuity Technologies, Inc. a consulting and managed services firm, in Zebra's PartnerConnect program.
Acuity chose Zebra because they are a leader in enterprise mobile computing, a key driver in the verticals that Acuity supports. Zebra's seamless integration with mobile device management platforms also enables Acuity to implement comprehensive management strategies covering both Zebra's enterprise-class handheld computers and consumer mobile devices in corporate environments.
"By working with Zebra, we can expand our overall mobile strategy and better support our clients' handheld device fleets," said Josh Anderson, Chief Executive Officer of Acuity. "We are very excited to include Zebra's enterprise-class mobile devices as part of our unique solution set as these types of devices are frequently used in line of business applications across multiple industries including consumer-packaged goods and healthcare."
The Zebra® PartnerConnect program allows Acuity to work closely with Zebra to ensure that their clients receive unmatched support from a unified team. This highlights Acuity's continued commitment to expanding its Mobility Managed Services capabilities by ensuring their expertise in all areas of mobility. The PartnerConnect program is designed to evolve the best of Zebra's award-winning inclusive channel ecosystem, addressing the needs of distributors, ISVs and resellers, providing opportunities for growth and meeting customer and market demands.
By participating in PartnerConnect, Acuity gains access to an innovative portfolio of enterprise-class barcode scanners, mobile computers, tablets, and printers, along with comprehensive training, extensive marketing, sales, and technical benefits.
PartnerConnect program is a global network that provides Acuity access to industry-leading solutions, training, and tools that aim to differentiate, offer opportunities for collaboration and help improve customer satisfaction.
About Acuity
Acuity Technologies is a consulting and managed services firm focused on designing, deploying, and managing communication infrastructures. Founded in 2002, and based in Tampa, FL, Acuity's core values reflect integrity, expertise, and innovation. http://www.acuitytech.com