Web-Based Inventory Management System Reveals its New Breakdown Feature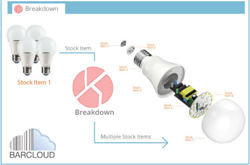 "The Breakdown System is designed to make the user's manufacturing procedures easier for more efficient and accurate workflow."
AUSTIN, Texas (PRWEB) March 05, 2019
ASAP Systems, the market leader in Inventory System and Asset Tracking, reveals the new Breakdown Feature for its Web-Based Inventory Management System.
The Breakdown Feature allows users, mostly in the manufacturing and IT sectors, the ability to break down an existing Stock Item into the desired quantity, creating multiple stock items, trackable by serial number.
The new feature can be configured in the User Security setting, enabling the administrators to designate who has the ability to perform and execute the transaction.
In addition, users have the ability to generate configurable Breakdown Reports, choosing between the Breakdown Inventory ID # ( the Stock item that is being broken down), breakdown quantity, or Breakdown Location fields.
"The Breakdown System is designed to make the user's manufacturing procedures easier for more efficient and accurate workflow," Said, Joseph Azzi, ASAP Systems' Head of Engineering.
Within the Breakdown Transaction, users will be able to perform three transactions, Issue, Receive and Dispose Transactions to create an easier and more effective process.
About ASAP Systems
We solve the biggest problems in Inventory Management and Asset Tracking. Through many years of experience, working on a vast range of unique customer requirements, we have developed unmatched expertise in creating solutions to fit almost any budget, technical or user requirement. Our highly-configurable and scalable Barcode-Based Tracking Systems are designed to provide maximum ROI today, tomorrow and into the future. Offices in San Jose, California (headquarters) and Austin, Texas
--
Get The Bar Code News once a month, once a week or once a day. Subscribe here.
Follow us on Twitter: https://twitter.com/TheBarCodeNews
Follow us on Facebook: https://facebook.com/TheBarCodeNews