ALOM Leaders Named 2019 Supply Chain Pros to Know by Supply & Demand Chain Executive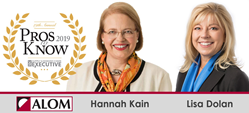 "We are proud to represent the collective expertise of the entire global team of ALOM supply chain operations and technology professionals whose talent and dedication make our customers' growth and success possible." -- Lisa Dolan, ALOM VP, Supply Chain Strategy
ALOM, a global leader in supply chain management, has been recognized for its strategic industry knowledge and technical expertise by Supply & Demand Chain Executive with the naming of two executives as 2019 Supply Chain Pros to Know: Hannah Kain, President and CEO; and Lisa Dolan, Vice President of Supply Chain Strategy. This is the fifth year for Kain, and the fourth year for Dolan, to receive this honor.
The 19th annual listing of the 2019 SDCE Pros to Know Awards recognizes supply chain practitioners and providers who enable their supply chain customers and suppliers to meet the significant challenges of today's global business climate.
"Lisa Dolan's exceptional expertise spanning supply chain order management technology and manufacturing process optimization, helps solve her customers' biggest challenges today, such as aligning their physical and digital supply chains, or creating long term strategies to protect against marketplace fluctuations. Key to her success is her deep understanding of technology application, both current and emerging, and her ability to build trusted relationships," said Kain.
"Hannah and I are proud to represent the collective expertise of the entire global team of ALOM supply chain operations and technology professionals whose talent and dedication make our customers' growth and success possible," added Dolan.
As the ALOM visionary leader, Kain has built a global footprint of 19 facilities enabling its Fortune 500 customers to source, produce, and fulfill orders near major word markets, reducing costs and transportation distances while maintaining Six Sigma quality levels. In 2018, Kain positioned the company for continued long-term growth with investments in technology, staff expertise, supplier relationships, and industry advocacy. She further expanded the company's global presence opening its EMEA headquarters in Amsterdam and a new 110,000-square-foot addition to its US global headquarters in Fremont, California now totaling 260,000 square feet.
Lisa Dolan positions ALOM customers for success and opportunity amidst an increasingly complex and fast-changing technology landscape. For example, she strategizes with customers to proactively address how to utilize technology to protect their supply chains from disruption and significant cost increases in an uncertain trade environment. She also advises customers on how to embed rapidly updated technology in their supply chains as their products develop and evolve.
In an era when many industries are defined by and compete with their technology, ALOM uses its own proprietary solutions to manage and scale complex programs for companies spanning automotive, medical device, technology, and energy/utility sectors. As an example, seamless integration and analysis of data enable companies to generate predictive data, meet global demand and assure regulatory compliance. At the same time ALOM enables companies to digitally connect with customers, suppliers, service providers, and product developers.
"We commend ALOM for its achievements in the supply chain and for paving the way for the next generation of exceptional supply chain leaders," said John Yuva, editor of Supply & Demand Chain Executive. "They embody the commitment to transformative supply chain tools and processes, earning these individuals a rightful place in this year's Pros to Know listing."
Supply & Demand Chain Executive received more than 500 entries for the 2019 Pros to Know Awards.
About Supply & Demand Chain Executive
Supply & Demand Chain Executive is the executive's user manual for successful supply and demand chain transformation, utilizing hard-hitting analysis, viewpoints and unbiased case studies to steer executives and supply management professionals through the complicated, yet critical, world of supply and demand chain enablement to gain competitive advantage. Visit us on the web at http://www.SDCExec.com.
About ALOM:
ALOM is a global supply chain management services and solutions provider serving as a partner to its Fortune 500 customers in the technology, automotive, government, medical, telecommunications, and utility/energy sectors. Headquartered in Fremont, CA, its expert team of strategists, technology engineers, and supply chain specialists operate globally from 19 locations. ALOM supply chain service offerings include procurement, ecommerce, inventory, assembly, digital media duplication, print management, fulfillment, IT and visibility tools, logistics management, and operations. ALOM is proud to deliver its customers' products and services impeccably, enrich the end-user experience, and uphold their brand reputations. http://www.alom.com