Jacket With RFID Proof Pocket Launches on Kickstarter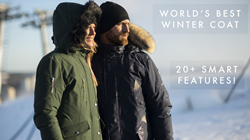 Our love for the outdoors and our extremely cold but beautiful Swedish winters inspired us to create the ultimate winter jacket.
KIRUNA, Sweden (PRWEB) February 07, 2019
Norrland Parka, the world's best winter jacket with over 20 smart functions, has launched on Kickstarter.
Norrland Parka is the ultimate jacket to tackle the cold winter months, with over 20 built in features that include a built in Wifi hotspot, USB power bank, leather gloves, scarf, hat and bottle opener.
"With our top quality and design, Norrland Parka is a must-have for the cold season," said Martin Anderson, founder of Norrland Parka. "Our love for the outdoors and our extremely cold but beautiful Swedish winters inspired us to create the ultimate winter jacket."
Norrland is located in the northern region of Sweden, above the arctic circle, which translated from Swedish fittingly means "North Land".
"It is a region with stunning beauty, known for its Northern Lights, great beer, friendly people and the world's first ice hotel," added Anderson. "We're the only jacket in the world designed above the arctic circle – so we know a thing or two about how you stay warm in the harshest conditions."
Using top materials, the Norrland team carefully handpicked the sturdiest hardware and fabrics with the optimal balance between durability and luxurious feel. The fill is US standard 90/10 White Duck Down, using the highest quality and most expensive inner lining. The outer lining is synthetic insulation, with water and wind repellent materials along with a faux fur hood – keeping users warm, dry and cozy in any condition.
Full features include:
Wifi Hotspot: Built in Wifi Hotspot gives users and their friends/family instant internet access up to five devices through the jacket.
Power Bank: The 5500mAh power bank lets users charge their phone or tablet anywhere while it's in their pocket.
Built-in Gloves: Super soft and touch screen enabled leather gloves with the warmest insulation. Designed for Norrland Parka, the gloves fit neatly inside zippered pockets in the coat's sleeves.
Built-in Scarf: Perfect for when the wind suddenly hits.
Tablet Pocket: Designed to carry an iPad or any full-size table or notebook to free up space in luggage or bags.
Glasses Pocket: With shock absorbing materials, this keeps glasses or ski goggles safe and handy along with a built-in microfiber cloth for cleaning lenses.
Smartphone pocket: Easily accessible and shock absorbing pocket for smartphones. Offers seamless connection to earphones and power bank.
Built in Pen + Stylus: Zipper includes a detachable telescoping pen that extends to 4 inches that doubles as a Stylus.
Hat pocket: Neatly stash hats in the hidden hat pocket behind hood.
Airpods Pocket: A dedicated pocket to carry Airpods or any other wireless earplugs, so users are never left searching for them.

RFID proof Wallet pocket:

A dedicated RFID proof pocket to carry wallets, protecting credit card information and other sensitive information from being stolen.
Noise reducing earplugs: A pair of noise reducing earplugs come in its own dedicated pocket.
Apple Pencil pocket: A dedicated pocket for an Apple pen or any other pens.
Passport Pocket: Perfect to quickly access a passport and boarding pass while travelling.
Hand warming pockets: Multi layered hand warming pockets for extra warmth.
Retractable keychain: A retractable keychain with a carabiner so users will never ever their keys again.
Bottle opener + whistle and flashlight: The retractable keychain also has a bottle opener, along with a whistle, perfect for life threatening situations. The keychain also has a built in flashlight for dark situations.
Tracker tag pocket: Fits most commercial trackers in to track a lost jacket.
Secret Pocket: Hidden pockets are different on each jacket model so only users know of its location.
Water resistant: Norrland Parka keeps users warm and dry during the winter season.
Wind Resistant: Norrland Parka's breathable yet wind resistant soft shell wards off the wind chill.
For more information or to purchase Norrland at an early-bird discount during crowdfunding, visit the Norrland campaign page on Kickstarter.