NMSDC Nominates Frontier Technologies for Supplier of the Year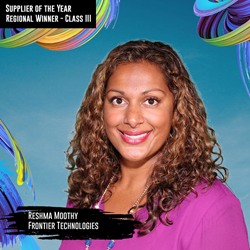 "We wouldn't be here without organizations like the NSMDC or the community of diverse suppliers we're privileged to be a part of."
WILMINGTON, Dela. (PRWEB) November 08, 2018
Frontier Technologies was nominated and recognized for the National Minority Supplier Development Council's (NMSDC) Class III Supplier of the Year Award at the Annual Conference in Austin Texas, October 14-17.
Frontier recently won the Class III Supplier of the Year Award from their regional council, the Eastern Minority Supplier Development Council (EMSDC), so the national honor is quite momentous for their continuous success.
Additionally, Reshma Moorthy, President of Frontier Technologies, recently received the Minority Business Enterprise Advocate of the Year Award from the EMSDC for her devotion to the council, and her service as Chair of the Minority Business Enterprise Input Committee, giving a voice to minority-owned businesses.
"It is a true honor to be considered among such an inspiring group of peers, and some of our closest friends," said Moorthy, of the NMSDC Supplier of the Year Award nomination. "To be recognized by our regional council, and now by our National Council in less than a year feels incredible; it is very encouraging to work hard for something, put our community first, and then be awarded by that community we love serving so much."
Frontier has been involved with and served the supplier diversity community for decades, mentoring new diverse suppliers, leading and serving on committees in councils and organizations, and winning awards for that service.
"We don't take any of this for granted," said Moorthy about the many awards received in the last 12 months. "We wouldn't be here without organizations like the NSMDC or the community of diverse suppliers we're privileged to be a part of. We are just happy our service, both in this community and to our clients, has afforded us the opportunity to use technology to improve business and the world."
About Frontier Technologies, Inc.
Frontier Technologies, Inc. designs and delivers award-winning IT solutions to help our clients innovate, differentiate and disrupt.
For more than 30 years we've grown Frontier by helping clients build data centers and IT infrastructure that power their businesses. Our decades of experience and focus on the future means clients can store, serve, analyze and maintain their data across platforms, software, networks, and the cloud - in ways that set their business apart. Our cybersecurity-first approach means our clients' data is safeguarded end-to-end and at every step - protecting and fueling their competitive edge.
About the NMSDC
The National Minority Supplier Development Council advances business opportunities for certified minority business enterprises and connects them to corporate members. To achieve our mission, we will:
work through the NMSDC Network to support and facilitate MBE integration into corporate and public-sector supply chains;
build MBE capacity and capabilities through our programs and other education offerings; and
facilitate MBE-to-MBE partnerships to meet the needs of our corporate members.
The National Minority Supplier Development Council Inc ® (NMSDC®) is one of the country's leading corporate membership organizations. Whether you're a small minority-owned organization or a billion-dollar powerhouse, we're committed to helping you solve the growing need for supplier diversity.
We do this by matching our more than 12,000 certified minority-owned businesses to our vast network of corporate members who wish to purchase their products, services, and solutions. Our corporate membership includes many of the largest public and privately-owned companies, as well as healthcare companies, colleges, and universities.
--
Follow The Bar Code News(tm) on Facebook and Twitter.
The Bar Code News (tm) relies on sponsors to pay our bills. You can help by letting vendors know that you've seen them here and by following us on social media. Thank you.