IntelliFarms Announces the Addition of Adam Weiss to the Team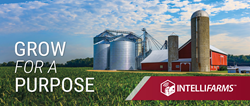 ARCHIE, Mo. (PRWEB) September 04, 2018
IntelliFarms announces the appointment of Adam Weiss as Chief Operating Officer. Mr. Weiss comes to Intellifarms from GSI where he was the Director of Global Technology and Product Management. Mr. Weiss brings over 20 years of experience launching high-tech products. As a leader, in both engineering and business, he will add direction and experience in all aspects of IntelliFarms.
In his new role, Mr. Weiss will focus his initial efforts on production and engineering, but will be critical at all levels of IntelliFarms' operations. Upon joining the IntelliFarms family, Mr. Weiss stated "I am excited to join such a well-respected company that is focused on quality, integrity and customer satisfaction." Mr. Weiss brings with him a passion for solving customers' needs with innovate products and a strong belief in transparency and continuous improvement. Mr. Weiss will be an integral part of bringing IntelliFarms into the next phase of growth. Mr. Weiss stated, "I truly believe the best is yet to come for IntelliFarms!"
Todd Sears, President and CEO of IntelliFarms reported, "We are so excited to have Adam join the team. He brings such a passion and knowledge of the industry, he is really going to help us continue to drive our mission to help bring value and profits back to the farms."
Prior to GSI, Mr. Weiss spent almost 10 years with GE working on the engineering and product teams; growing product lines, spearheading projects, developing product strategy, leading teams all along the way. Mr. Weiss received his Bachelor of Science in Electrical Engineering and Master of Business Administration from the University of Nevada - Reno.
About IntelliFarms
IntelliFarms is an agricultural technology company based out of Archie, MO. For more than 18 years, IntelliFarms has been working to bring increased value and profits back to the farms. SureTrack FARM™ is connecting farmers with processors and merchandisers who are looking to buy grain directly from the farms. SureTrack PRO™ is locating growers, creating transparency in supply chains and improving overall quality for processors, merchandisers and end users. Visit http://www.intellifarms.com for more information.
#
- The Bar Code News(tm) says: - Nobody was ever fired for having too much information, so don't risk missing a key piece of competitive intelliigence. Sign up for a subscription on the left side menu. We don't spam, ever. Your choice of daily, weekly or once a month emails. Or, use the SEARCH feature on the left side menu to keep track of news about your competitors.