MedSpeed (Health Care Logistics) Makes Inc. Magazine's Fastest Growing List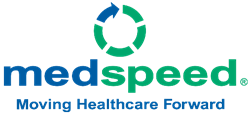 "Our ongoing growth is a testament to the hard work of all MedSpeeders and our commitment to focusing on the patient, who is at the center of everything we move."
NEW YORK (PRWEB) August 20, 2018
Inc. magazine today announced that MedSpeed, a U.S. market-leading provider of healthcare intra-company logistics, made its 37th annual Inc. 5000, the most prestigious ranking of the nation's fastest-growing private companies.
"We are honored to again make the Inc. 5000 list," said Jake Crampton, CEO of MedSpeed. "Our ongoing growth is a testament to the hard work of all MedSpeeders and our commitment to focusing on the patient, who is at the center of everything we move." Crampton concluded, "I am grateful and humbled to be a part of this team as we work together to improve healthcare and ultimately take better care of our communities."
The companies on the 2018 Inc. 5000 are very competitive within their markets, and the list as a whole shows staggering growth compared with prior lists. The 2018 Inc. 5000 achieved an astounding three-year average growth of 538.2 percent, and a median rate of 171.8 percent. The Inc. 5000's aggregate revenue was $206.1 billion in 2017, accounting for 664,095 jobs over the past three years.
"The Inc. 5000 list stands out where it really counts," says Inc. President and Editor-In-Chief Eric Schurenberg. "It honors real achievement by a founder or a team of them. No one makes the Inc. 5000 without building something great – usually from scratch. That's one of the hardest things to do in business, as every company founder knows. But without it, free enterprise fails."
About MedSpeed
Healthcare is changing. Healthcare organizations are growing, and care continues to expand outside of the four walls of the hospital. This growth provides more capacity to utilize scale to create healthcare companies that are better functioning, smarter organizations. Intra-company logistics - the enterprise-wide movement of physical materials, such as blood and specimens, pharmaceuticals, supplies, equipment, print, mail and more - is the foundation of the healthcare supply chain. Every health system needs transportation for its clinical operations to function. MedSpeed is the market-leading organization that is changing the way the healthcare industry views healthcare logistics by leveraging it to help health systems and other healthcare organizations integrate. MedSpeed treats transportation as a strategic asset that works as a means to achieving greater operational efficiencies, reducing risk, more effectively utilizing scale, eliminating redundancies and centralizing services. http://www.medspeed.com
About Inc. Media
Founded in 1979 and acquired in 2005 by Mansueto Ventures, Inc. is the only major brand dedicated exclusively to owners and managers of growing private companies, with the aim to deliver real solutions for today's innovative company builders. Inc. took home the National Magazine Award for General Excellence in both 2014 and 2012. The total monthly audience reach for the brand has been growing significantly, from 2,000,000 in 2010 to more than 18,000,000 today. For more information, visit http://www.inc.com.
The Inc. 5000 is a list of the fastest-growing private companies in the nation. Started in 1982, this prestigious list has become the hallmark of entrepreneurial success. The Inc. 5000 Conference & Awards Ceremony is an annual event that celebrates the remarkable achievements of these companies. The event also offers informative workshops, celebrated keynote speakers, and evening functions.
More News: