Retailers Must Simplify to Increase Bandwidth, Improve Reliability and Reduce Costs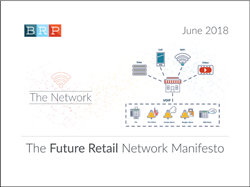 To meet consumers' demand for the future store requires the adoption of real-time, cloud-based technologies enabled by a powerful network.
BOSTON (PRWEB) June 21, 2018
According to a new report from BRP, network bandwidth is becoming a bottleneck and applications are not performing efficiently. It has become so bad at some organizations, that retail store operations personnel refer to the network as the "not-work." BRP published "The Future Retail Network Manifesto" to articulate its vision of the future store and identify the challenges and imperatives retailers face in delivering the expected customer experience. The network is a key enabler of the future store and most retail networks require a transformation to support the plethora of new applications that are putting a strain on bandwidth.
"We are in the midst of a retail renaissance, as the way customers shop has transformed the traditional store model. To meet consumers' demand for the future store requires the adoption of real-time, cloud-based technologies enabled by a powerful network," said Ken Morris, principal, BRP. "Retailers can no longer afford to operate with outdated networks. Now is the time to transform the network to support the store of the future."
Consumer expectations have never been higher and will continue to rise. The digital world offers consumers new ways and "places" to research and shop. These digital possibilities, along with mobility, are raising consumer expectations and forcing retailers to transform and evolve to succeed. The store of the future requires a personal, mobile, relevant, ubiquitous and secure environment to meet these rising expectations.
Success requires retailers to operate in real-time with customer and product information visible and accessible across the enterprise – this necessitates the move to a unified commerce platform supported by a robust, fast, reliable and resilient network. As retailers move more applications to the cloud, SD-WAN solutions optimize the network performance and ensures 100% uptime.
Retailers that simplify and optimize their network realize many benefits:
Elimination of plain old telephone service (POTS) lines
Significantly increased bandwidth
Improved network reliability, capability and diversity
Reduction in total network spend
To download The Future Retail Network Manifesto, visit: https://brpconsulting.com/download/the-future-retail-network-manifesto/
About BRP
BRP is an innovative retail management consulting firm dedicated to providing superior service and enduring value to our clients. BRP combines its consultants' deep retail business knowledge and cross-functional capabilities to deliver superior design and implementation of strategy, technology, and process solutions. The firm's unique combination of industry focus, knowledge-based approach, and rapid, end-to-end solution deployment helps clients to achieve their business potential. BRP's consulting services include:
Strategy | Business Intelligence | Business Process Optimization | Point of Sale (POS)
Mobile POS | Payment Security | E-Commerce | Store Systems and Operations | CRM
Unified Commerce | Customer Experience | Order Management | Networks
Merchandise Management | Supply Chain | Private Equity
For more information on BRP, visit http://www.brpconsulting.com.