META Storage Solutions Inc. and The Numina Group Partner to Provide Neuco's Next Generation Warehouse Distribution Center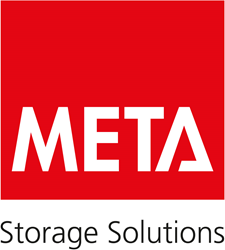 The Meta pick module provides over 25% more storage capacity than a comparable traditional rack supported pick module
MIAMI (PRWEB) June 06, 2018
June 2018 META has intensified its material storage solution design services to support Numina Group's effort in delivering Neuco's new material handling and order fulfillment automation system for their recently announced Romeoville IL. Distribution Facility. META Storage Solutions will provide the two level dense storage pick module including customized design services, project management, and installation of the pick module, using its full family of modular dense storage pallet, carton flow rack and shelving storage technologies required for the automated distribution center.
Neuco Inc. is North America's leading master distributors of HVACR, Heating Ventilation Air Conditioning, and Refrigeration products with maximum efficiency and effectiveness throughout the United States and Canada. As a third-generation, family- run business, Neuco takes great pride in the quality of their people, products and order fulfillment practices to ensure fast and accurate order fulfillment services that consistently deliver an extraordinary customer experience.
The new HVAC control and parts distribution facility, scheduled to open in September, will also serve as their corporate headquarters. The facility will triple the company's distribution space. Neuco's investment in the high automated distribution center was made to meet the rapidly growing same day delivery demand for heating and air-conditioning products and repair parts order fulfillment requirements.
Numina Group performed the design services as the material handling system integrator. The technology selected includes an automated conveyor system and a pick module that unites, receiving, replenishment, picking, packing, and shipping automation throughout the distribution center. The automated conveyor system to transport and route product movement from receiving and quality control throughout the picking, packing and shipping operation. Order and product movement are directed using a series of camera-based barcode scanners to transport and sort cartons and totes of parts throughout the operation. The new operation will be managed by its Real-time Distribution System, RDS™, a top tier Warehouse Execution and Control System (WES-WCS).
The centerpiece of the material handling storage system at the distribution operation is a 15,000 square foot META Clip shelving system. The shelf structure provides the product storage and support structure for the worker access aisles and the intelligent 24VDC modular roller driven, MDR conveyor system. The conveyor includes (6) bi-directional transfers for directing the movement of product put-away from receiving and for the routing order picking requirements across the 12 pick zones contained in the two level pick module.
The pick module will go live with 51,491 storage positions matched to the customer's product SKU profile size. Several key advantages of Meta's modular shelf product line were incorporated in the pick module design, including mixing the shelf depths and shelf divider positions for increased storage density. "The Meta team was highly creative and knowledgeable in how to increase storage space utilization. The Meta pick module provides over 25% more storage capacity in parts storage capacity than a comparable traditional rack supported pick module. Reducing the pick module footprint storage capacity increases the life of the DC and has the added benefit of 25% less travel time for both replenishment and order picking" stated Dan Hanrahan, President of the Numina Group, Woodridge IL.
The modular nature of the META Clip shelving design also provides the customer future flexibility! As SKU cube changes occur, it's simple to adjust shelf heights and snap in shelf dividers to increase or decrease a storage location size. "Providing a META Pick Module for Neuco who stock and ship a large volume of parcel shipments of small size repair parts the META material handling storage system future proofs the operation. It's minimal customer time and effort to adjust the storage system shelving to adapt to changing market demands and growth" added Dan Hanrahan.
About Meta Storage Solutions
META has built and refined its core competence in metal working for over 100 years. Our main products, a wide variety of shelving and racking systems, are "Made in Germany", and are successfully marketed worldwide. META develops designs, produces and installs stationary and dynamic shelving and racking systems tailored to specific project needs. META's product range includes shelving systems, long-span, pallet and cantilever racking systems, as well as mobile racks and flow racks. With a full range of storage solutions and the modular nature of its systems META and its partners provide complete logistics systems for warehouses, distribution centers and manufacturing facilities. From the initial concept and the customer-focused determination of requirements to the planning and customer support, through to the delivery and implementation, META always offers its customers complete and sophisticated solutions.
http://www.numinagroup.com
--