Seeonic and atlasRFIDstore Partner to Expand Sales of Cellular RFID Readers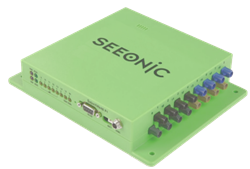 The Seeonic team is excited to partner with atlasRFIDstore to take RFID directly to the Internet of Things (IoT).
MINNEAPOLIS (PRWEB) June 05, 2018
Seeonic, leading supplier of Untethered RFID™​ technology, has teamed up with leading RFID solutions market supplier atlasRFIDstore to expand the sales of its cellular RFID readers and accessories to the Americas market.
"The Seeonic team is excited to partner with atlasRFIDstore to take RFID directly to the Internet of Things (IoT)," said Nicholas Singh, CTO of Seeonic. "Together, we will provide cloud-based 'untethered' RFID products to our customers that enable them to create rapidly-scalable solutions and to discover use cases not possible before."
Under the new partnership, atlasRFIDstore will offer Seeonic's SightWare®​ ​ family of ultra low-energy, battery-operated, high performance cellular RFID readers. Atlas will also offer Seeonic's wide-beam EYE antennas, rechargeable battery products as well as special SightWare®​ ​ starter kits that include all materials needed for quick development via easy-to-use cloud APIs.
Shain Armstrong, atlasRFIDstore's COO, said, "We're excited to announce our partnership with Seeonic and introduce our customers to their line of battery powered, cellular-connected readers. Through our relationship with Seeonic, atlasRFIDstore will now be able to provide our customers with a unique solution for deployments where access to AC power and network connectivity are difficult or impossible."
Seeonic products are now available for purchase at ​https://www.atlasRFIDstore.com/Seeonic.
About Seeonic
Based in Minneapolis, Seeonic is the leading provider of Untethered RFID™​ ​ enabling UHF RFID solutions in use cases never before possible. Seeonic's SightWare®​ ​ family of IoT RFID readers operate autonomously within fixtures, mobile carts, vehicles and field locations, delivering unprecedented enterprise visibility using battery power, onboard GPS and robust cellular communication. Seeonic technologies have been industry-recognized several times in the Best Implementation and Best Product categories. Visit Seeonic's website at http://www.seeonic.com.
About atlasRFIDstore
atlasRFIDstore is the leading supplier for RFID readers, tags, antennas, and accessories. Established in 2008 and located in Birmingham, Alabama, atlasRFIDstore provides its customers with a secure source for enterprise RFID hardware and tags. By developing personal relationships, creating educational guides and videos, and providing white-glove service, atlasRFIDstore delivers a value-added experience to its customers. To learn more about atlasRFIDstore, visit ​https://www.atlasRFIDstore.com​.
--
The Bar Code News is now in its 9th year and is pleased to bring you great exclusive content. We rely on sponsors to keep this website running, so please let vendors know that you've seen them here. Thank you. Is your bar code related business listed in our free directory? Over 500,000 visitors a year come to Barcode.com. It pays to be here.