Russians Lined Up In A Record QR Code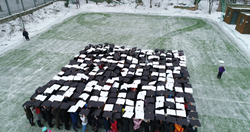 PRWEB)
JANUARY 23, 2018
Last Sunday in Moscow, 500 people created a giant QR code, which became a record for the Old World.
Video has over 500 thousands reviews https://www.youtube.com/watch?v=L3ViUecN2VA
The action was held on January 14 on the field of the stadium "Krasnaya Presnya". By the number of people participating in the QR code, this action was a record for Russia and Europe. In addition, the largest on the planet using paper. Therefore, the application is also sent to the Guinness Book of Records.
The flash mob is initiated by the international technology company Midex with offices in Hong Kong and Estonia.
'According to many analysts, 2018 will be the 'Year of the QR code', said SEO MIDEX Dmitry Machikhin, 'despite the fact that it appeared relatively long ago, right now, when the world comes 'cryptocurrency boom' - QR- code goes to the peak of its popularity. Our QR-code just symbolizes technology development'
According to the organizers, the preparation of the event took several weeks, while the action itself lasted about 3 hours. The volunteers raised black and white paper plates over themselves, which played the role of pixels and formed a giant QR code. The result was photographed with quadrocopters. And the video is uploaded to youtube.com.
Note that the world's largest QR code was created in 2012 in Taiwan. More than 1000 people took part in the action, umbrellas were used as the pixels. It was impossible to read it with a special application. The action was held to draw attention to the problems of tourism and education in this country.
Midex is an international technology company headquartered in Hong Kong with regional offices in Estonia and Russia. We develop and implement innovations for leading financial infrastructure institutions and companies operating within fast-growing markets.
Other Barcode News