ImpactLABS Announces Advisory Board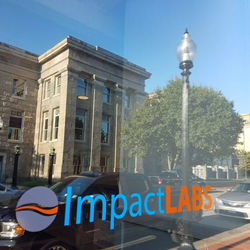 New Bedford, MA (PRWEB) September 20, 2017
IoT commercialization accelerator ImpactLABS recently appointed 25 thought leaders from diverse industries and stakeholder groups to its advisory board. Advisors have been selected for their ability to support the ImpactLABS mission: Accelerating IoT deployment to address grand challenges profitably, and with resilience.
The advisory board members represent ImpactLABS sponsors, partners, and portfolio companies and are each among the most experienced operators in their markets.
Managing Director Chris Rezendes commented, "When people dig into the work that ImpactLABS does, they are often amazed to see that the core team is not larger. We leverage both the tools and teams that our sponsors and partners share with us and our advisory board, for they are a profound force multiplier. Their experience, expertise and generosity enable us to grow our footprints in the field, on the street, and within the boardroom."
Members of the ImpactLABS Advisory Board include:
Anthony Sapienza, Senior Advisor, Joseph Abboud Manufacturing Corp.
Carrie Van Heyst, Partner at Van Heyst Group
Chris McKenna, Co-Chair Electronic Practice Group/ Tech Industry Team, Foley & Lardner LLP
David Shillingford, President, Pegasus Analytics
Dr. Richard Soley, Executive Director, Industrial Internet Consortium
Ed Anthes-Washburn, Executive Director, Port of New Bedford
Greg Kahn, President/CEO, Internet of Things Consortium
Guido F. Mengelkamp, Director, WaveGuide Services & INEX Advisors
Hussain Mohamed Almahmoudi, CEO of AUS Enterprises
Karen Schwalbe, Executive Director, Southeastern Massachuestts Agricultural Partnership
Kathryn Ford, PhD, Program Manager, Mass Division of Marine Fisheries
Kenneth S. Zuckerberg, Executive Director and Senior Research Analyst, Rabobank
Lanny Cohen, CTO, Capgemini
Maria Lynne Dayton, Co-Founder, Cedar Spring / Transterra Media / ProsParity
Marian Singer, Co-founder and CEO, Wellntel, Inc.
Mark Bernardo, VP of Global Services, Manufacturing, Logistics and Emerging Markets, GE Digital
Michael Murray, General Manager, Analog Devices
Michael Young, Director, Caterpillar Ventures
Nigel Jacob, Co-Founder, Boston Mayor's Office of New Urban Development
Rob van Kranenburg, Founder, IoT Council
Roger Krakoff, Managing Partner, IoT Capital Partners
Robert Lentz, President, Cyber Security Strategies
Sara Fraim, Director of Policy and Community Impact, Mass TLC
Scott McCarley, Senior Director of Solution Management, PTC
Tom Swift, Senior Attorney, Swift Law
Wendi Goldsmith, PhD, Director, Center for Urban Watershed Resilience
Advisor bios and information can be found on the ImpactLABS website.
Advisor quotes on joining ImpactLABS:
Greg Kahn, President/CEO, Internet of Things Consortium
"Thousands of corporations are deploying IoT solutions, and yet, there are so few working field labs in America. Chris Rezendes and ImpactLABS fill such an important need in the market, allowing established firms to pilot early stage IoT solutions in real-world settings. I am proud to be an advisor of, and for the Internet of Things Consortium to be closely aligned to, ImpactLABS."
Kenneth Zuckerberg, Executive Director and Senior Research Analyst at Rabobank
"I am thoroughly excited to be part of the ImpactLABS Advisory Board and support the mission of marrying the digital and physical worlds with instrumentation and engineering knowledge to foster economic resilience and sustainability."
Marian Singer, Co-founder and CEO, Wellntel, Inc.
"ImpactLABS' focus on nurturing and growing the early stage IoT companies needed to help the world intelligently monitor and sustainably manage resources is vital, and I'm looking forward to working with this dynamic, smart, and fun team."
Michael Murray, General Manager, Analog Devices
"Our work with ImpactLABS is a crucial aspect of our ability to commission, test and prove our sensor systems in live situations as we continue our journey to sense, measure, and connect critical infrastructure."
Scott McCarley, Senior Director of Solution Management, PTC
"ImpactLABS is not only defining new opportunities for innovation, insight, and value creation at the points of convergence between the physical and digital worlds, but they are delivering actual proof points with real world deployments. ImpactLABS provides PTC with a unique opportunity to collaborate with other leading technology companies, thought leaders, businesses and cities to understand how IoT and augmented reality can drive better outcomes and help solve some of the greatest challenges facing our planet in areas such as energy production and consumption, water quality and availability, safety and resilience, and aging critical infrastructure. I am proud to be an advisor to ImpactLABS and look forward to working with the team."
Wendi Goldsmith, PhD, Director, Center for Urban Watershed Resilience
"Many emerging approaches exist for managing flood damage, food security, soil carbon storage, and nutrient pollution. However without the ability to model, monitor, manage, and verify how large landscape scale systems (think the entire Mississippi River basin or San Francisco Bay area) function, it's not possible to make a compelling case for them. I am excited to be an advisor to ImpactLABS because they are working to merge IoT technologies with living green infrastructure methods from farms to cities."
About ImpactLABS
Located in New Bedford, MA, ImpactLABS deploys early stage IoT solutions with small and mid-sized businesses in Southeastern New England and a number of regional markets globally. From ImpactLABS-funded pilots to joint-funded commercial programs with paying customers, we are helping the most innovative small and mid-sized enterprises to build more profitable and sustainable businesses independently, and with their F5000 strategic partners.
All ImpactLABS work is documented to evidence technical, operational, financial and social impact and exponential impact.
The Bar Code News (www.barcode.com), now in its 8th year, does not sell software, hardware, bar code products or services. Use the links on the left side menu to find the products or services you need. Want to reach us? See the links on the Footer menu below. Please let vendors know you've seen them here.

Check out the latest Bar Code Digital magazine here
Other Barcode News:
Get The Bar Code News once a month, once a week or once a day. Subscribe here.
Follow us on Twitter: https://twitter.com/TheBarCodeNews
Follow us on Facebook: https://facebook.com/TheBarCodeNews