Profit Leaks Plague Distribution Sector According to The MPI Group
Cleveland, OH (PRWEB) July 11, 2017
Distribution centers are missing major opportunities to improve customer service and profitability, with key metrics worsening over the last 10 years, a new study shows.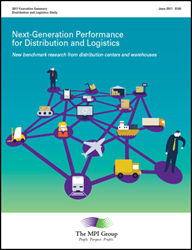 The industry could be doing far more in terms of training, Internet of Things (IoT) adoption, and deployment of Lean principles, all critical to satisfying customers and boosting margins, says John R Brandt, CEO of the MPI Group, which conducted the study.
For example, just 41% of distribution centers/warehouses have adopted lean thinking — a much lower implementation rate vs. manufacturing sites.
"When you compare today's numbers with those from 10 years ago, perfect order fulfillment declined," Brandt says. "Distribution centers need to invest in their workforces and improvement methodologies to meet increasing customer expectations."
The site-specific 2017 MPI Distribution and Logistics Study looked at operations, supply chain logistics, human resources, and assets and technology at 224 distribution centers and warehouses. Other key findings include:
Distribution centers and warehouses DON'T generally apply common practices that could improve their operations. For example, only 53% of facilities have a continuous-improvement program in place — and this is the most widely used practice.
A majority of facilities train each employee 20 hours or LESS annually, even though 40 hours is a benchmark for world-class performance across industries.
A majority of facilities have adopted at least some IoT technologies, but much more remains to be done — 39% have NO application of the IoT.
"Distribution and logistics companies can leapfrog competitors by adopting best practices and technologies common in other industries," says Brandt. "Executives who exploit this window of opportunity will put their firms on the path to long-term competitive advantage."
About the Study
The 2017 MPI Distribution and Logistics Study was conducted by The MPI Group, and promoted by MPI and APICS. From January through March 2017, 224 distribution center and warehouse executives participated in the study. A free sample of the executive summary, Next-Generation Performance for Distribution and Logistics, is available at http://mpi-group.com/product/distribution-logistics-executive-summary-sample/
About The MPI Group
The MPI Group (MPI) serves leaders with research, advice, and performance-targeted solutions that provide a competitive advantage in today's fierce marketplace. MPI combines the disciplines of research, strategic advice, knowledge development, and hands-on leadership to create a difference — in performance, in profits, and in the people who make them possible.
In addition to the Distribution and Logistics Study, MPI conducts an annual Internet of Things Study, and has conducted the MPI Manufacturing Study for more than a decade — benchmarking research focused on manufacturing plant performances and best practices. MPI also conducts the Next Generation Manufacturing Study, an assessment of companywide capabilities to compete in the next decade, as well as myriad studies for clients on varied topics within numerous industries.
MPI CEO John Brandt offers presentations on the 2017 MPI Distribution and Logistics Study data, via webinars and in-person events.

Other Barcode News: